The Best Male Sex Toys Can Work For You
Finding the best male sex toys for you can be a very erotic adventure. The fact is, you'll never know what works for you until you try. And the good news is, you'll find several options out there to experiment with, including some toys traditionally associated with women.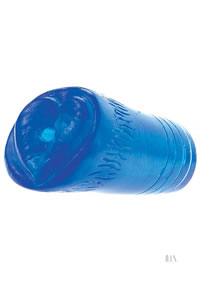 Many men turn to a masturbation sleeve for personal pleasure. Some are made of a CyberSkin type of substance (designed to emulate a vagina during lovemaking); others are made with a jelly rubber (offering enhanced friction and firmness). They can be completely realistic, with parts that look and feel just like a woman or more toy-like in their tube-style design.
Some are manual; some have batteries. Some offer the option of adding a small vibrator at one end, or include one built-in. Many will be ribbed inside and obviously those with batteries will add a little extra oomph to your session. To find the optimal effect for you, experiment by using lube in the sleeve, on you, or both.
Another of the best male sex toys is actually one that's usually associated with women: the vibrator. Exploring how it feels on your nipples can provide a new erotic sensation. You can also use it on the area between the scrotum and anus (though many guys mute down the sensation with a cloth or towel between the body and the toy as the sensation can be quite intense).
Same thing applies to stimulating your penis or testicles with a vibrator—try it to find out whether you're the kind of guy who'll reach new heights of orgasmic bliss with this traditional woman's toy.
Men who have discovered the pleasure possibilities of anal play will find butt plugs and prostate massagers to be two of the best male sex toys. If you want to learn more about this kind of stimulation, click here to reach our anal toys section.
Two other traditional best male sex toys are cock rings and penis pumps (more on these below).
Whatever your pleasure, there are plenty of sex toys available for guys to experience
new sensations
or to revisit old favorites. And remember you don't need to be alone to begin your adventure . . . involving your partner can create some
very intimate moments
.
Visit these pages for more information:
For A Male Vibrators Can Enhance Relationship Intimacy
Men And Sex Toys – Enhance Your Lover's Pleasure And Your Relationship
For Men Using Sex Toys, Cock Rings Offer Fun And Function
Combine Fun With Sex Toys With ED Help
Return to Sex Toys Home