Why Men Worship Lingerie? It's The Sexiest Sex Toy Out There
Wondering why men worship lingerie?
One survey helps explains this passion. In their book Sex: A Man's Guide, Stefan Bechtel and Laurence Roy Stains cite a 1990s Men's Health poll. It found–overwhelmingly–that why men worship lingerie is based on many factors, but overall, it's " . . . the US male's favorite erotic aid."

In this era of vibrators, dildos, butt plugs and more, intimate clothing and accessories still ignite the sexual anticipation, arousal and passion many couples seek. In addition to its visual and tactile appeal, women or men wearing intimate apparel can spice things up for role play during your sex games.

It can even encourage those who like the lights off to turn them on – because sensual styles make you look delectable to your partner and boosts your self-esteem. And if you feel good about yourself, you'll feel even better about engaging your partner in hot, steamy sex!

That said, one Men's Health survey respondent said that it's not what his partner wears to bed that matters–it's what she's wearing under her outfit when you're out on the town. Note Bechtel and Stains, "Because it fires up a man's imagination, there's no sense in limiting its usefulness to a momentary parade in the boudoir."

Anticipation–and thinking about the sex you're going to have before you have it–is a potent sexual tool.

And what's good for the guys is good for the gals. A woman can be equally aroused knowing her man is sporting something sexy before or during lovemaking. It looks good, feels unique and brings a new dynamic to how you see and touch each other. Because lingerie combines elements of touch, romance, "naughtiness" and visual stimulation, it can break down barriers and produce a creative sexual mood.

Frederick's of Hollywood put intimate clothing and accessories on the sexual map in the '40s; they understood all the reasons why men worship lingerie-it's a key erotic tool for couples in pursuit of great sex. Retailers all over the world offer a vast range of products. The fact that couples believe in the love quotient of why men worship lingerie explains why the world bodywear market was estimated at US$29.15 billion in 2004. To learn more about what ultraseductive clothing and sleepwear can add to your sexual scenarios, click on a topic below: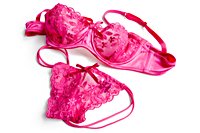 See Through Sexy Lingerie Can Ramp Up Your Fantasy Play
Erotic Latex Lingerie Offers Form-fitting Fun
Men Wearing Lingerie? Add Some New Sensations To Your Sex Life
Erotic Sheer Lingerie - Hot Stuff For Hot Sex
Wedding Night Lingerie Can Help You Sizzle In The Bedroom
Benefiting From Women's Plus Size Lingerie